February in the West
Temperatures for February 2010 were near to below normal in the southwest and intermountain region with eastern Montana recording well below normal temperatures. The Pacific Northwest, northern California and northern Nevada were mostly above normal. There was a very sharp dividing line in Montana between positive and negative departures. The average temperature in Havre, MT, was nearly 11 degrees F (7 deg C) below normal while 100 miles to the west in Cut Bank the average was 2 degrees F (1 deg C) above normal. Many intermountain valleys were colder than normal thanks to rather continuing persistent inversions.
Precipitation continued to follow the El Nino pattern of dry conditions in the Pacific Northwest and wet in the Southwest. Eastern New Mexico recorded the greatest anomalies with some locations reporting precipitation totals 400% of normal. Clayton, NM, recorded their 3rd wettest February on record in over 100 years of data.
In normally wet Hilo, HI, total rainfall for January and February combined is only 2.32 inches (59 mm), which is less than Las Vegas, NV, at 3.09 inches (78 mm). Hilo's normal for the two months is 18.60 inches (472 mm).
Mountain snowpack on March 1st remained mostly below normal throughout the west except for Arizona, New Mexico and southern Utah. Portions of the Pacific Northwest and northern Intermountain region were only 50%-60% of normal for March 1st while most of Arizona is still over 200% of normal.
Significant Events for February 2010
February 6: Heavy Rain in Southern California: Heavy rain with up to 4.5 inches (114 mm) in the mountains above Los Angeles on the Station Fire burn area triggered mud/debris flows in the La Canada-Flintridge area near Pasadena. 41 homes were seriously damaged and another 500 were ordered evacuated. No injuries had were reported, although several people were trapped for a time in their homes or cars by mud and/or debris, which was estimated to be at least two to three feet deep in some areas. Rockslides closed a section of road in Topanga Canyon and scattered power outages affected more the 10,000 customers in the Los Angeles area.
February 2010 Departure from Normal Temperature and Percent of Normal Precipitation for Western United States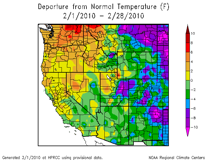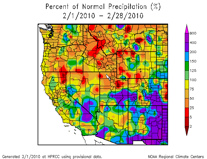 Percent of Normal Snow Water Equivalent, March 1, 2010